An ad agency from brazil has created some really cool posters for modern social media companies like Facebook and Twitter. Great Stuff…would love to see a vintage-Yasni-poster, too!
The ads were created by Rodolfo Sampaio. Here, he explains the idea behind the vintage posters:
"Being that one of the greatest concerns these professionals have is to constantly reinvent themselves. What's new today, is old tomorrow. With this in mind we've developed this campaign, showing how the tools in communication are quickly outdated. We are greatly impressed and pleased with the feedback we are seeing throughout the world."
Take a look at Facebook, Twitter, Skype, Youtube in the 1960′s Posters: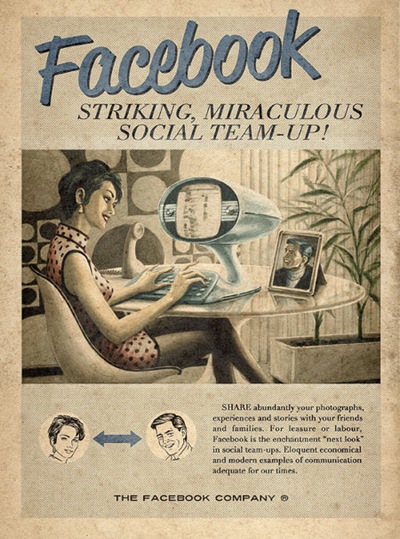 There has been an interesting news story this week about 5 Californians suing Facebook; claiming it violates their rights to privacy.
The 5 people, including 2 children, a photographer and an aspiring actress, claim that Facebook has gathered and shared their personal information with third party groups, as well as taking part in data mining procedures.
A similar case was brought to Facebook earlier in the year, when a young boy created an account without his parent's permission and later uploaded pictures of him and his young friends in their swim wear.
This is another example of how people need to monitor their own online reputation and, very crucially, this highlights how important it is for parent's to check their children's online presence to ensure that the above cases do not happen again.